Bookmakers account verification issues
How to set up bookmakers account verification successfully to make your
sports arbitrage betting

career easier to start?

On the way to successful bookmakers account verification - every time you want to withdraw your money the bookmaker will ask you to verify your identity. It is a long process and it could get you nervous especially when you are in a hurry to get your money, because it could take from few days to few weeks, depending on the situation. To skip this annoying part, Arbitrage Guides team recommend you to do the verification at the beginning, immediately after setting up the account.
If you are using credit cards the bookmaker might ask you to scan and send it and most of you won't like this. This is one more reason to use e-wallets. If you are Skrill, Neteller or PayPal customer the only thing you might be asked to verify is a screenshot, with your account where your name, e-mail and your transaction to the bookmaker is visible. It is up to you which way is more comfortable for you.
One more important thing that you need to know about bookmakers account verification is that if you deposit money by e-wallet, the only way to withdraw your money back will be through e-wallet again. If you deposit money by credit card you can withdraw them only by the same credit card. If you deposit money by e-wallet and want to withdraw them through credit card or the opposite, the bookmaker will reject your request. So, to summarize: you must use the same method for depositing and withdrawing money from the bookmaker, otherwise, your request won't be approved. No exceptions are allowed.
There are two more things that the bookmakers might require from you to complete the verification successfully – scan of your ID from both sides to prove your age and your identity, and proof of your address (any kind of bill, like phone or electricity bill, not older than three months).
The verification process is something that you must do for sure and will be much easier if you do it in the beginning. It will save you time and troubles.
All this process is called KYC (Know Your Customer) and each bookmaker has one. KYC is usually two-three steps process and until your account is fully verified you will not be able to make a withdraw. Below, you can see a picture with an example from Bet365.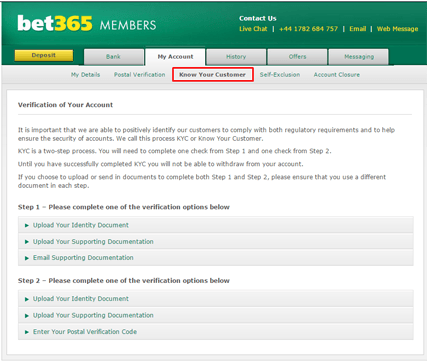 If you find this article for useful, please subscribe to our Newsletter to get the latest post and to stay in touch with the latest news for sports arbitrage betting. We are expecting you!
Related posts to "Bookmakers account verification":
Which are the suggested bookmakers for beginners in sports arbitrage betting?
What is the best Sports Arbitrage starting bankroll?
How much money do I need to get started with Sure Bets?
What is "bonus hunter" and how to get benefits from the bonuses via arbitrage betting?