ArbMate Review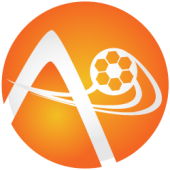 From our experience so far, ArbMate has definitely won a place next to the leading surebets softwares on the market. Below we have summarized it's features till today's date, so you could decide by yourself if it suits your needs. Here is their changelog page in case we have missed something by the day you are reading this review. Enjoy reading!
Basic information
Home page: www.arbmate.com
Founded: 1st of July, 2018
Sports: Soccer.
Tennis and Basketball should be added until the end of 2022
Arb types: Surebets, Middles, Polish Middles.
Back/Lay surebets should be added until the end of 2022
Arb modes: Live and PreMatch
Bookmakers: Average of 60 bookmakers and more than 100 clones.
Here is the complete list of supported bookmakers and their clones and mirrors
Navigation: Both direct links and Chrome Extension navigating.
The Chrome Extension's name is "Odds Navigator"
Default Subscriptions: Weekly(7€), Monthly(19€), 3 Months(51€), 6 Months(90€), 1 Year(156€).
Each default subscription includes access for Bet365, Bwin and Pinnacle.
You could swap any of the default or additional bookmakers for free once per 30 days.
Average price per bookmaker: 3€ for 30 days
Payment methods: Debit/Credit card, Skrill, PayPal, Neteller
Trial: Up to 5 bookmakers for free for 24 hours if you purchase weekly or monthly default subscription
Languages: English, Russian, Chinese, Greek, Czech, Slovak, Estonian, Bulgarian, Arabic, German, Swedish.
You could become their translator and get free subscription for translating.
Affiliate program: Up to 30% commission for lifetime for each sale (view affiliate program)
Contact: support@arbmate.com or their contact form from Monday to Friday only.
Navigation
ArbMate's navigating (auto-surf) Chrome Extension is a wonderful tool that will help you arb easier and make fewer mistakes. It is 100% not trackable by the bookmakers because it acts as a normal user by clicking on the links step by step to the endpoint. It navigates you to the betting event page, selects the odd and enters the amount in the betslip. All this is possible on multiple machines and computers at the same time with a single ArbMate account. It also injects a dynamic arb calculator on each bookmaker's page (you could switch this option off) which is synchronized automatically with all other calculators on change. Amazing isn't it? This saves you a lot of time in the calculation process. Also when you make a change in this calculator the new amount is automatically populated again in the betslip!
Navigating your local computer with the extension is for free, but in case you want to navigate unlimited multiple computers and virtual machines at the same time from one ArbMate account an additional fee must be paid.
Watch Video Download Odds Navigator
Subscriptions
This is one of their big advantages. You are not obligated to pay for all bookmakers like other arb services require. You could pay only for the bookmakers you need which makes it very convenient for beginners and of course for professional arbers.
To register in ArbMate you need to buy one of the default subscriptions. At this stage you will have access to the default bookmakers Pinnacle, Bet365 and Bwin. Only after you have subscribed for any of the default subscriptions you could swap or add additional bookmakers. It is important to note that the minimum period for adding additional bookmakers is 30 days, so if you have purchased weekly subscription you will have to extend it with 23 days. This is because you can't have additional bookmakers if you don't have active default subscription for the same period.
Anyway a subscription for Bet365, Pinnacle, Bwin, 188bet and Ladbrokes for example for 30 days will cost you only 25 Euros which is more than cheap for 5 bookmakers that are completely enough for arbing. You could cover the subscription price with just 3-4 arbs. In other arb services for the same period of 30 days, you will have to pay an average 350 Euros and will use only 5 bookmakers again, so you could see the huge advantage in the ArbMate's pricing policy.
All default subscriptions are recurring, so have this in mind. You could cancel the recurring subscriptions at any time by yourself or by contacting ArbMate's support team via e-mail to support@arbmate.com. Adding additional bookmakers is not obligated with recurring payments.
Each subscription includes full access to all features - this means access to all arb types for both Live and PreMatch without any arbs update delay!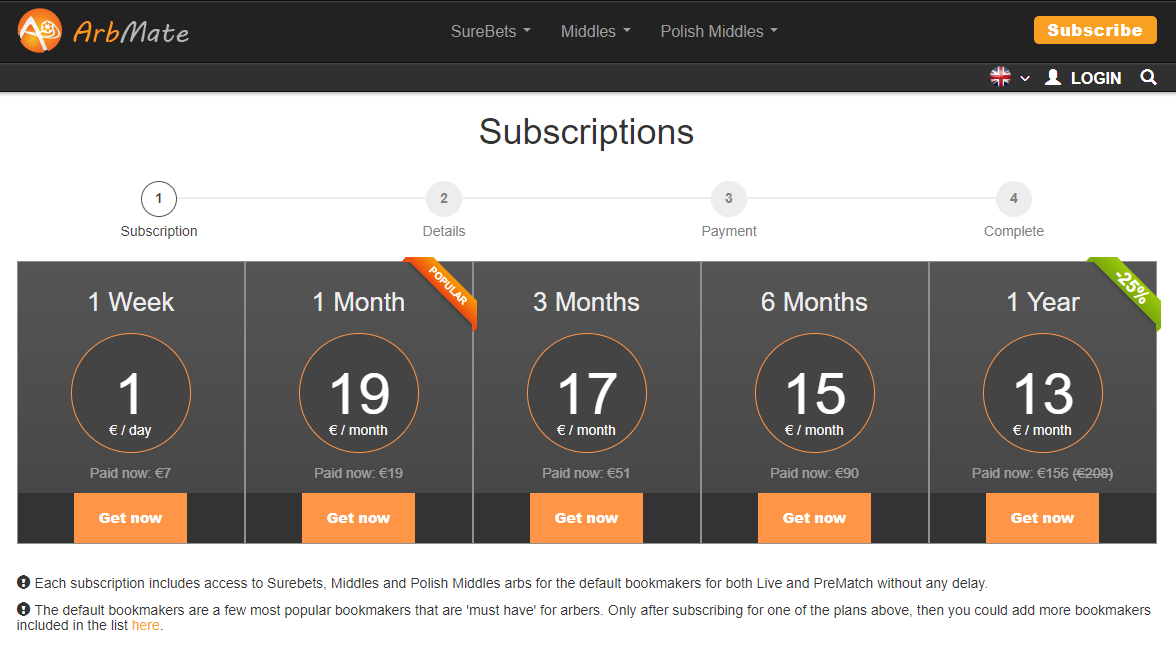 Bookmakers
On their page with supported bookmakers, you could see which bookmakers are default, which bookmakers-clones-mirrors are available for navigating, and what is the price for each bookmaker for 30 days.
For logged-in users there is a very useful statistic with arbs count for each bookmaker. This way you could see before purchasing in how many arbs is involved each bookmaker at this moment and decide if it worth it to be purchased. You could also know if the bookmaker is down and skip asking the support team if it is working or not and why there aren't any arbs with it - it saves you time and wondering. From the same page you could swap or purchase bookmakers and see it's expiration date.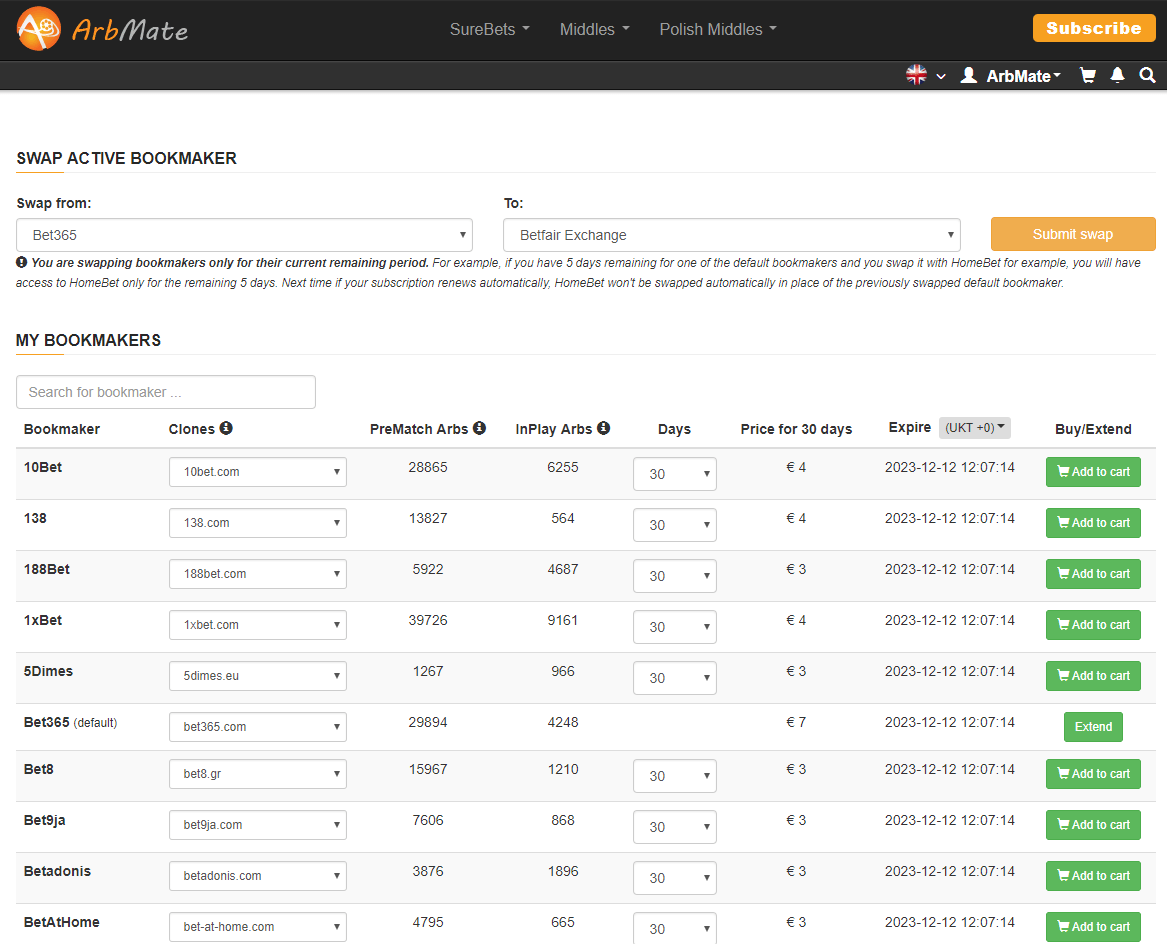 Filters and Settings
Base currently supported filters and settings are:
Min Arb %
Max Arb %
Default stakes
Rounding stakes
Outcomes count
Odds lower than - this is often used for value betting
Odds higher than
Event on half time - for Live events
Score is draw - for Live events
Minutes till break - for Live events
Event settled in hours
Liquidity for exchanges
Commission % for exchanges
Alarm for arbs above %
Leagues filter
Events filter
Odds filter
Bookmakers filter
Download arb calculator option for accounting purposes
Min value - for Middles and Polish Middles
Max value - for Middles and Polish Middles
Many other visual settings, hints and tips like markets explanation tooltip and etc
Filter for markets
Filter for leagues
Filter for periods
Multi-currency
Get all arbs for selected event
Scanning rates
Odds are being updated each second for all Live bookmakers and the asian bookmakers for PreMatch. For the rest bookmakers for PreMatch the update rate is on average each 1-3 minutes. This leads ArbMate to the top ranking in terms of speed which is the most important quality to rank arb services and should be your major criteria when you are choosing a service.
Conclusion
ArbMate is someway combining the best qualities from all existing arb services. It has many common technical and visual elements with other arb services and it is still unique because it has added additional extras to each of them. The pricing model makes it convenient for use especially for beginners which doesn't have so big bankroll to start arbing. We have been testing ArbMate since the very beginning and the quality of the arbs, the speed, the support team and pretty much almost everything else is on high level. Arbitrage Guides Team recommends it to everyone so don't waste more time and get into it! Happy arbing!