Back/Lay surebets

explained
What is Back/Lay surebet / arbitrage?
Back/Lay surebet is an arbitrage between Bookmaker and Betting Exchange. Back bet means to bet that something will happen and Lay bet means to bet that something won't happen. In Back/Lay surebets we will Back the bet on the bookmaker for the first outcome and then will Lay the bet on the betting exchange for the second outcome.

Back/Lay surebets in details
We are going to explain how Back/Lay surebets are calculated and will show you an example for Back/Lay arbitrage. For this purpose we are going to use a screenshot of the surebet calculator from OddStorm Desktop App.
/Back/Lay surebet example/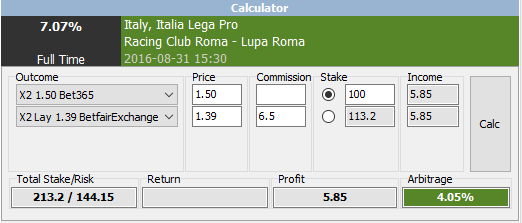 What is Lay bet?
Before getting into details let's explain what is Lay bet using the example above. You already know that Lay bet means to bet on something not to happen. What you still don't know is that if you Lay a bet in Betfair (113.2 in the example) you are not "risking" 113.2, you are actually requesting to win 113.2, covering the bet of someone else. The amount that you are really "risking" is: 113.2*1.39 - 113.2 = 44.15. In our case, you can easily subtract from the "Risk" located in the bottom left corner the stakes in Bet365: 144.15 - 100 = 44.15. This could save you time if you want to know exactly how much are you going to risk in the betting exchange.
Understand the back/lay example
On the screenshot above we have chosen back-lay arbitrage between the bookmaker Bet365 and the betting exchange Betfair. In Bet365 we have to place 100 euro the end of the match to be Draw or Lupa Roma to win (X2). In Betfair, we have to bet to win 113.2 euro on the opposite - the result not to be X2 (this is called Lay bet). The total amount we have to place is 213.2 euro (the total amount we are "risking" is 144.15 euro) and no matter how the match will end we will win 5.85 euro.
Let's calculate:

1) If "Lupa Roma" Win or match is Draw (X2), you will win 100*1.5 = 150 euro.
From our winning we subtract our stakes: 150 - 100 = 50 euro.
At the same time, in Betfair we have to pay the winnings of the person we bet against: 113.2*1.39 - 113.2 = 44.15 euro.
Our final profit is: 50 - 44.15 = 5.85 euro.

2) If the result is not X2 we will win in Betfair 113.2 euro.
From these 113.2 Betfair will take a 6.5% commission and our winnings will decrease to: 113.2 - 113.2*0.065 = 105.85 euro.
You can easily set a different commission by changing the default value "6.5".
At the same time, we will lose in Bet365 100 euro.
Our final profit is: 105.85 - 100 = 5.85 euro.
How to set default commission rate and liquidity?
Now when you know the basics for back/lay surebets and how they generally work, it's time to go deeper into the details and learn how to load them, set the default commission and what's the liquidity for.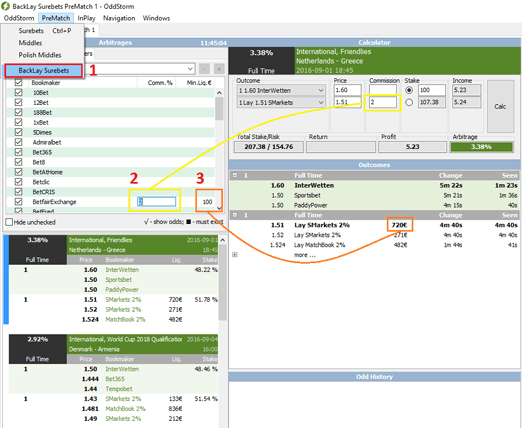 1) First you need to load the Back/Lay surebets from PreMatch/InPlay -> Back/Lay Surebets marked with red and number 1 on the screenshot above
2) Then you could set the default commission that will be used to calculate the arbitrages and will be default value in the commission tab in the calculator each time. You can do this from the Bookmakers section, in the tab marked with yellow and number 2
3) The third thing you need to do is set the liquidity in the tab, marked with orange and number 3, again in the Bookmakers section
What is liquidity in arbitrage betting?
Liquidity in sports arbitrage betting is the amount you can place on current odd in the betting exchange. For example on the screenshot above the liquidity in Smarkets for the current odd is 720 euro. This means we could place (Lay) max 720 euro at 1.51. If you set the liquidity in the bookmakers section to higher amount, for example, 600 then you will see only arbitrages that have at least 600 euro liquidity.
If something goes wrong, you can always renavigate the whole arbitrage or navigate only the current odd, by right clicking on it and click on "Navigate XXX at: XXX" like on the screenshot below.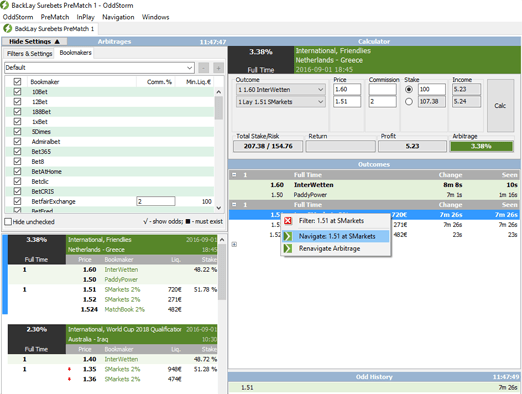 Video tutorial comming soon in this article!
Conclusion
Back/Lay surebets are great opportunity for every arber. The first advantage is that the betting exchanges are arbitrage friendly and won't limit you. The second advantage is that the exchanges accept cents and if you are a newbie, you won't have to round the stakes. And last, but not in last place there are thousands of arbitrage opportunities only for back/lay. So give it a try, you won't be disappointed!
If you want to learn all the tricks, don't forget to take a look at our training programs, specially made for OddStorm!
Visit Arbitrage Guides Fan Page
Related posts:
Surebet Navigation
How Big profit can I get?
What is Sports Arbitrage?
Which bookmakers to use?
InPlay Surebets First Steps?
Which e-wallet to use?