Asian Handicap Betting explained in details
On first place, we are going to explain what is Asian Handicap Betting and what is AH1, AH2 and Asian Lines and then will go into details how this will work for you in Sports Arbitrage Betting.
What is Asian Handicap?
Asian Handicap Betting (AH) is the most popular way for betting in Asia. In AH, we could say that the Draw result is eliminated. You have only two options to bet - on Home team or on the Away team or otherwise said bet on Favourite or on the Underdog (Outsider). Only two options for betting sounds great, but is it really that easy? Most of the internet authority will say that the Draw result is completely eliminated, but this actually is not really true. If you continue reading will see that there is an option to win if the match is a draw. The third option in Asian handicap betting is to be a draw with the bookmaker. Your bet will be stated as a Push(Tie) and your stake will be refunded.
The main advantage of the Asian market is that the margin is about 1%-3%, compared with a normal margin of the European market where it is 8%-12%. This means that if all bets on a single match are proportional the bookmaker will win (if it is Asian bookmaker) 1%-3% from all bets. This is the way they win - regardless the result of the match.
What is Asian Line?
Before giving you any examples, first, you must get familiar with the rules in AH in order to understand the examples. Every match has a different AH Line (It is possible to have two or three lines on one single match) and in the pictures below you will see the different Asian Lines. AH1 means to bet on Home team and AH2 means to bet on Away team. You can check all the abbreviations like EH, U/O, GG/NG, 1X2 and HO/AU/HU needed for sports arbitrage betting in the bottom of the page here.
Asian Handicap (AH1)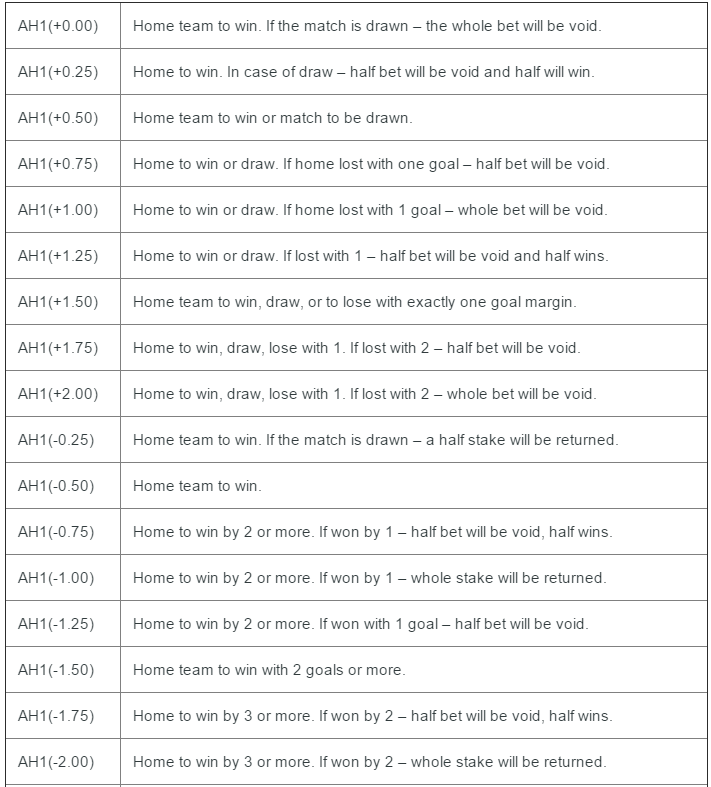 Asian Handicap (AH2)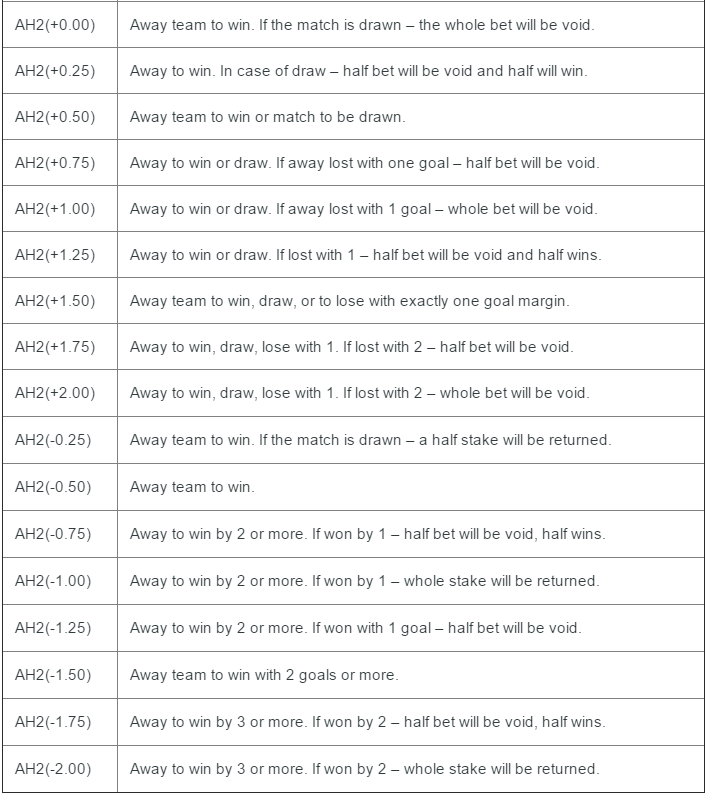 One Asian Line can be shown in different ways but they all mean the same.
Asian Handicap Betting in Sports Arbitrage
Now is the time to give you an example with AH from OddStorm surebets software. The examples will help you understand how Asian handicaps are used in sports arbitrage betting and will convince hat it is not hard to understand at all.
/AH example one/
Below is another example for arbitrage with AH included which is appearing more often.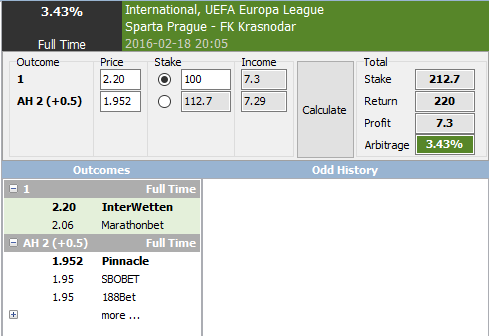 Above we have surebet with InterWetten and Pinnacle.
Match:
Sparta Prague – FK Krasnodar
Outcomes:
1) 1 at 2.20  – InterWetten ("Sparta Prague" to Win)
2) AH2 (+0.5) at 1.952 – Pinnacle("FK Krasnodar" to Win or Draw)
If we bet 100 on InterWetten, we have to bet 112.7 on Pinnacle to win 7.30.
Lets calculate:
–  1.1) If "Sparta Prague" Win you will win 100*2.20 – (100+112.7) = 220.00-212.70 =  7.30€.
–  2.1) If "FK Krasnodar" Win or is Draw you will win 112.7*1.952 – (100+112.7) = 220.00-212.70 = 7.30€.
/AH example two/
This is a really rare situation with arbitrage between two AH and it is actually invalid arbitrage, but it is good to know.

Match:
Shimizu – Bellmare
Outcomes:
1) AH1 (+0.00) at 4.00  – Fonbet ("Shimizu" to Win)
2) AH2 (+0.00) at 1.80 – Coral ("Bellmare" to Win)
If we bet 100 on Fonbet, we have to bet 222.22 on Coral.
Lets calculate:
–  1.1) If "Shimizu" Win you will win 100*4.00 – (100+222.22) = 400 – 322.22 = 77.78€
–  2.1) If "Bellmare" Win you will win 222.22*1.80 - (100+222.22) = 400 - 322.22 = 77.78€
–  3.1) If the result is Draw the bet will be void and your money will be refunded
Asian Handicap in Live Sports Betting
If you are betting on live on AH, you are betting only on the remainder of the match. This means that the goals will start counting after you place your bet. Any previous goals scored in the match will be irrelevant for the outcome of your wager. If you are betting on Under and Over number of goals, any previously scored goals will be included in the outcome of your wager.
Which bookmakers offer Asian Handicap Betting?
Not all the bookmakers offer Asian Handicap because most of them don't like to refund the payments to the punters. Some of them may provide such markets but will give very low odds or limited handicaps which will limit again your winning opportunities. Good bookmakers for AH are most of the Asian bookmakers - Pinnacle, SBObet, Dafabet, 188Bet and Bet365, Tempobet, Unibet, Offsidebet from the European ones.
Conclusion
Asian Handicap Betting is a really popular way of betting in Asia and it is mainly used for soccer matches. AH is a preferred method of betting in sports arbitrages because there are only two possible outcomes which make it easy and there are more winning possibilities compared with regular betting. It looks difficult at a first look, but in the end, you will find it so easy. Good luck and happy arbing!
Related posts:
Surebet Calculator
Two-ways sure bets in Arbitrage Betting?
What is Middles?
What is Polish Middles?
What is Bonus Hunter?
InPlay Surebets First Steps?
Surebet Navigation