Bonus Hunter in Arbitrage Betting
What is "bonus hunter" and how to get benefits from the bonuses via arbitrage betting?
You might already have an idea what is bonus hunter because the name speaks enough by itself. Anyway, it is something very interesting and every arbitrage player must definitely take advantage of it. As you might know, most of the bookmakers have bonuses for new customers, but there are some things you need to do before you could withdraw your bonus. But some of you might not know about the bonuses so let's start by explaining what are they in more details with a simple example from Bet365.
What are the bonuses?
It is very often event and it happens when you open your account. The bookmaker offers you bonus money if you deposit fixed minimum amount. The catch is that you have to place a minimum amount of bets to be able to use your bonus and withdraw your money.
Every bookmaker has a different value of bonuses and different conditions, so we are going to give you an example for one of them (Bet365) and for the rest it's pretty much the same.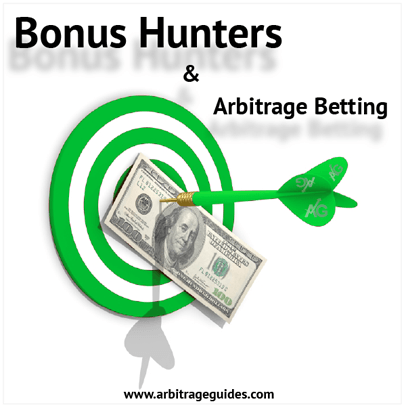 Example:
You are new customer and at the moment you open your account the bookmaker sends you the offer for the bonus, but with the following terms and conditions:
- Open an account, make a deposit of 5€ or more and you will be entitled to a 100% bonus on your qualifying deposit up to a maximum of 50€.
- You will find a code in your account and to claim your bonus must send it via e-mail to the bookmaker.
- To bet with your bonus, simply turn over the amount of your deposit once on the sports and markets of your choice. You must have settled bets on the value of three times your deposit and bonus prior to making withdraw.
- Any single bets placed at odds of less than 1.50 (1/2) will not count towards any turnover requirement. In multiple bets at least one selection must have odds of 1.50 (1/2) or greater to count towards any turnover requirement.
- You have 90 days to turn over your money and the promotion ends at September,30'th.
How to take advantage of the bonuses?
Here comes the interesting part. These bonuses are like a gift for arbitrage players and are really good for beginners. This is because you can place bets with 0% return or even -1% and at the end, you will still get profit because you will make enough turnovers to claim your bonus and to be able to withdraw it. So, if you are wondering why in OddStorm surebets software there are negative or zero arbitrages, the answer is: in a request from the hunters to be able to take advantage of the bonuses. Anyway, it will be even better if you make positive arbitrage bets because you will make your regular profit plus bonus. There are arbitrage players that open new accounts all the time just to get the bonuses. This is what in sports arbitrage area is called "Bonus Hunter".
Related posts:
What the bookmakers think for Arbitrage Betting and is ti legal?
What is the best day for arbing?
How to stay under the radar of the bookmakers?